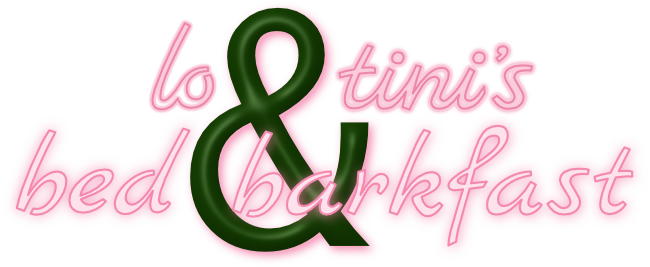 your pup's home away from home
We do more than just board your dog;
we bring them into our home and treat them like family.
At Lo and Tini's Bed and Barkfast, we put our canine friends' comfort and safety first. It is for this reason that we choose to welcome your dog into our family for the duration of their visit with us. Dogs are very sensitive to the influence of their surroundings, so leaving them in the care of your veterinary clinic or a boarding facility is not always the best option.
Servicing South Snohomish County
and North King County areas.

Hi! My name is Laura, a.k.a. "Lo". Dogs have always been an integral part of my life and I've always known that I wanted to turn my passion for their well being into my career. It is my firm belief that our furry little family members deserve the same sense of peace and safety that we do, even when mom and dad have to leave town. Besides being raised around dogs and learning how to communicate with them in a way that they understand, I also spent several years working in dog daycares and boarding facilities. My titles ranged from Transportation Specialist to Dog Wrangler to Assistant Manager. The next natural step for me was to start my own business, and so here I am, and I am so excited to meet you and your pup!

Hello! I'm Christine, a.k.a. "Tini". I am an artist at heart and find beauty in the smallest things. Dogs are no exception! Their soulful expressions and energetic presence inspire so much joy in my life! I have one on one care experience with senior and special needs dogs, as well as a personal traveling caretaker. I've also worked in doggy daycares, giving me experience working with many different breeds and personalities. I am a professional photographer as well, specializing in end of life family and pet portraiture. You can see my services and samples of my work at Until We Meet Again Photography.
Special care options are also available for your extra needs pupperonies. If your dog is getting old and fragile, or just needs extra love and attention, we can care for them in a calm and low-key family setting with one on one attention. See "Tini's Library Room" below.
*Lo and Tini's Bed and Barkfast offers boarding and add-on services only.
Daycare is not available at this time.
BOARDING OPTIONS
SPAW MENU
A little help for a Christmas surprise
I wanted get a pup for my son for Christmas but I had to have somewhere to hide her until the big day. With Tini & Lo I knew the new baby would be in excellent hands & well taken care of. 2 weeks baby girl was in their care. I got daily updates and pictures and they trained her to sit and wait when being fed. They also puppy pad trained her & got a head start on training her to go outside. I will definitely be using their services whenever we leave town & cannot take our fur babies with us, be it 1 night or several!
Ah-mazing!
I left my 11 month old Goldendoodle under the care of Laura and Christine for nine days (first time ever being away from my pup). I was so lucky to be referred to them by a neighbor after I mentioned I was boarding my dog at the vets office. He would have been stuck in a kennel and instead he had the best care with these girls. I got daily updates and photos. Honestly, they went above and beyond my expectations. He got daily walks, lots and lots of play time with other dogs and other fun outings. He even picked up a few good manners. And not to mention how accommodating they are to last minute request. They are truly the best dog sitters.
Dog Heaven!
Doggy Haven! After going through multiple dog daycares and dog boarding experiences, I was discouraged with the lack of personal attention and comfort offered to my fur babies. My 15 year old deaf pug can't get around well and is very fragile and Lo & Tini go above and beyond to provide him with the care and love he needs! They also shower my puppy and older guy with love, socialization, walks, snuggles, and fun outings. I travel frequently and can do so in comfort because I never have to worry about the little ones and can rest assured knowing they're in great hands. Being able to see fun daily photos of them enjoying their adventures is an extra special bonus!
If you have questions, or you'd love for your dog to hang out with us and have some fun, email us at: bark@bedandbarkfast.com or fill the form out below! We look forward to hearing from you and meeting your pup!